JoAnn Williams prepares to pick up items with her yellow bucket and metal "grabber" near the Tapestry at Granville where she lives with her husband, Fred Williams. In four years, she's had to buy six different grabbing tools. (Nanci Hutson/Courier)
Stories this photo appears in: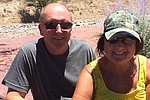 If you live near the Tapestry at Granville apartment complex in Prescott Valley, or travel up and down Glassford Hill Road, it's likely you have seen JoAnn Williams, a tanned woman with short dark hair and baseball cap.