Delegates of Canada, Mexico and the United States celebrate after winning a joint bid to host the 2026 World Cup at the FIFA congress in Moscow, Russia, Wednesday, June 13, 2018. Standing on front row from left: Steve Reed, president of the Canadian Soccer Association, Carlos Cordeiro, U.S. soccer president and Decio de Maria, President of the Football Association of Mexico. (Pavel Golovkin/AP)
Stories this photo appears in: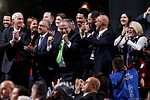 MOSCOW — North America will host the 2026 World Cup after FIFA voters overwhelmingly opted Wednesday for the financial and logistical certainty of a United States-led bid over a risky Moroccan proposal for the first 48-team tournament.