Troy Thomas Mobley, 30, from Phoenix, is one of three suspects believed to be involved in an attempted murder that took place on Yavapai County land adjacent Highway 69 early Tuesday morning, June 12. He is described as having brown hair, hazel eyes, is 5 feet 10 inches tall and weighs about 220 pounds.
Stories this photo appears in: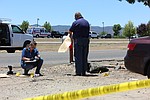 Jessica Holgate was opening up the Jackson Hewitt along Frontage Road in Castle Canyon Mesa at about 7:45 a.m. Tuesday, June 12, when she heard a distinctive pop.