From 3 to 4 p.m. Saturday, June 9, Matthew Earl Jones -- director of Arizona's Office of Film and Digital Media -- will discuss "Creating Film and Media in Arizona" at the Yavapai College Performing Arts Center, 1100 E. Sheldon St., Prescott. His talk, included in the 9th Annual Prescott Film Festival, will examine the ways that the state facilitates access to public locations for filming and streamlines resources for movie crews. (Courtesy)
Stories this photo appears in: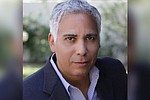 Yavapai College's Film and Media Arts Program presents the 9th Annual Prescott Film Festival, an eight-day tour of the science and artistry that lights up the silver screen.