Supreme Court nominee Judge Brett Kavanaugh. (AP Photo/J. Scott Applewhite, File)
Stories this photo appears in: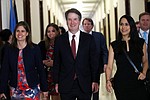 Supreme Court nominee Brett Kavanaugh says he recognizes that gun, drug and gang violence "has plagued all of us." Still, he believes the Constitution limits how far government can go to restrict gun use to prevent crime.
By MICHAEL KUNZELMAN & LARRY NEUMEISTER, AP
July 28, 2018