Rep. Kyrsten Sinema, D-Ariz. speaks on May 29, 2018, at the Capitol in Phoenix. Sinema has come a long way from her days as a green party activist as she seeks to become the first Democrat to represent Arizona in the Senate in 30 years. (AP Photo/Matt York)
Stories this photo appears in: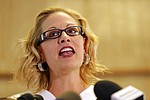 Arizona is a political rarity this year, one of the few places where Democrats have any hope of flipping a Republican Senate seat.
By THOMAS BEAUMONT and MELISSA DANIELS, Associated Press
August 9, 2018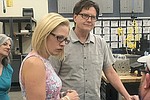 PHOENIX — Democratic Rep. Kyrsten Sinema says Immigration and Customs Enforcement, the agency that some in her party are clamoring to abolish, is performing an "important function."
By THOMAS BEAUMONT and MELISSA DANIELS, Associated Press
July 22, 2018