Lucky is now healthy enough to be on display along with a recently rescued two-month-old pronghorn fawn. (Bearizona)

Stories this photo appears in: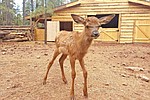 Good fortune was with a newborn elk in the early morning hours of June 10. Not so much its mother who was struck and killed on I-40 near Flagstaff.