In this July 19, 2018 file photo, President Donald Trump speaks before signing an Executive Order that establishes a National Council for the American Worker during a ceremony in the East Room of the White House in Washington. Trump said he's willing to hit all imported goods from China with tariffs, sending U.S. markets sliding before the opening bell, Friday, July 20. In a taped interview with the business channel CNBC, Trump said "I'm willing to go to 500," referring roughly to the $505.5 in goods imported last year from China. (Andrew Harnik/AP, File)
Stories this photo appears in: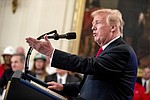 With President Donald Trump intensifying his rift with U.S. trading partners, economists are growing more doubtful that any deal that might benefit American workers and companies is in sight.