In a December 2017 photo, Prescott Creeks Executive Director Michael Byrd stands in front of the burned-out log cabin that had served as the organization's office for about four years. Since the fire, Prescott Creeks has downsized into a smaller cabin near the old log-cabin site along Highway 89. (Cindy Barks/Courier, file)
Stories this photo appears in: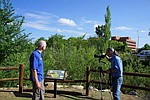 When fire destroyed Prescott Creek's log-cabin offices late last year, much of the organization's supplies and equipment went with it.