Heidi Osselaer, author of "Arizona's Deadliest Gunfight" will give a presentation on the fight at 2 p.m. Saturday, July 21, 2018, at Sharlot Hall Museum. (Courtesy/Ken Leja)
Stories this photo appears in: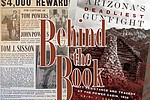 Historian and author Heidi Osselaer asserts that Arizona's deadliest gunfight was not at the O.K. Corral, but at the Powers Cabin in the Galiuro Mountains.