N.C. House Democratic candidate Allison Dahle stands on the House floor at the Legislative Building in Raleigh, N.C., on Thursday, July 12, 2018. When allegations of sexual harassment surfaced against Dahle's state representative, a fellow Democrat, she assumed the lawmaker would step down. He didn't, and so the 54-year-old office manager ran an aggressive, uphill campaign to defeat him _ which she did in the May 8 primary. (AP Photo/Gerry Broome)
Stories this photo appears in: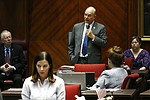 Allegations of sexual misconduct against Kentucky lawmakers have become so common that the statehouse has seemed more like a frat house: Seven have faced accusations, including four who settled secretly with a female legislative aide.
By CHRISTINA A. CASSIDY, Associated Press
July 17, 2018