Pictured is Rep. Don Shooter, center background, R-Yuma. Shooter was the first state lawmaker in the country to be expelled in the #MeToo era after he was criticized for a pattern of sexually harassing women. Now he's back, running in the state's Republican primary for a seat in the state Senate. (AP Photo/Ross D. Franklin)
Stories this photo appears in: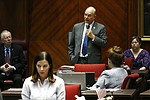 Allegations of sexual misconduct against Kentucky lawmakers have become so common that the statehouse has seemed more like a frat house: Seven have faced accusations, including four who settled secretly with a female legislative aide.
By CHRISTINA A. CASSIDY, Associated Press
July 17, 2018