In this June 18, 2018 file photo, dignitaries take a tour of Southwest Key Programs Casa Padre, a U.S. immigration facility in Brownsville, Texas, where children who have been separated from their families are detained. The American Civil Liberties Union says it appears the Trump administration will miss a Tuesday, July 10 deadline to reunite young children with their parents in more than half of the cases. The group said the administration provided it with a list of 102 children under 5 years old who must be reunited by Tuesday under an order by U.S. District Judge Dana Sabraw in San Diego. It said in a statement that it "appears likely that less than half will be reunited" by that deadline. (Miguel Roberts /The Brownsville Herald via AP, File)
Stories this photo appears in: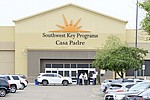 The Trump administration said Thursday all eligible small children separated from their families as a result of its zero-tolerance immigration policy have been reunited with their parents.