Flanked by supporters, former Attorney General Terry Goddard explains Thursday how an initiative drive would constitutionally require disclosure the original source of campaign contributions more than $10,000. Backers collected more than 285,000 signatures to put the issue on the November ballot. (Howard Fischer/Courtesy)

Stories this photo appears in: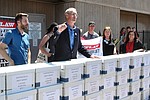 Arizonans may get a chance to decide whether they want to find out who is trying to influence their elections.