Employees of a signature-gathering firm — hired by the Arizona Association of Realtors — deliver boxes of petitions to the Secretary of State's Office Tuesday, July 3, 2018 to put a measure on the November ballot that would forever prohibit sales taxes on services. (Howard Fischer/Capitol Media Services)
Stories this photo appears in: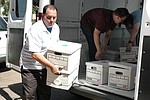 A judge will decide whether lawmakers have an absolute right to ask voters to approve two changes in law in a single act, even if they may only want one of them and not the other.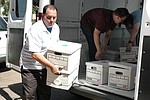 PHOENIX — Arizona Realtors formally launched their bid Tuesday to ask voters to ban state lawmakers from ever taxing services, even if it also would reduce or eliminate taxes on other necessities — or even if legislators say the revenues are needed.