(Stock photo)
Stories this photo appears in: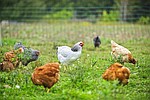 A tractor-trailer made a fowl mess when it rolled over in Washington state. It dumped about 40,000 pounds (18,145 kilograms) of chicken feathers across Interstate 5.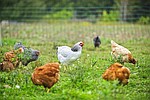 The New Hampshire Legislature is considering a bill that would make trespassing fowl a violation, not for the chicken, but for its owners. Under the proposal, anyone who knowingly, recklessly or negligently allows their domestic fowl to enter someone else's property without permission can be convicted of a violation if the birds damage crops or property.