Russian opposition leader Alexei Navalny, centre, attends a rally in Moscow, Russia, Sunday, Jan. 28, 2018. Navalny was arrested Sunday in Moscow while walking with protesters, as protests take place across the country. (AP Photo/Evgeny Feldman)
Stories this photo appears in: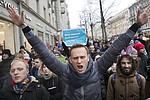 Protesters gathered across Russia on Sunday to support opposition leader Alexei Navalny's call to boycott the March presidential election, and Navalny himself was arrested while walking to the Moscow demonstration.