File photo - Attorney General Jeff Sessions testifies before the Senate Judiciary Committee on Capitol Hill in Washington. Sessions will soon mark his first year as the nation's chief law enforcement officer. (AP Photo/Carolyn Kaster, File)
Stories this photo appears in: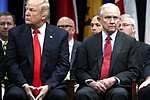 Jeff Sessions was in his office, looking unusually deflated. He had just received another public lashing from President Donald Trump.
By SADIE GURMAN, Associated Press
January 28, 2018