In this Dec. 15, 2017, file photo, President Donald Trump and Attorney General Jeff Sessions attend the FBI National Academy graduation ceremony in Quantico, Va. Sessions will soon mark his first year as the nation's chief law enforcement officer. That comes even after a year that included a barrage of insults from President Donald Trump, antipathy from some of his own employees and even some calls from his fellow Republicans to resign. (AP Photo/Evan Vucci, File)
Stories this photo appears in: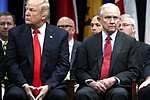 Jeff Sessions was in his office, looking unusually deflated. He had just received another public lashing from President Donald Trump.
By SADIE GURMAN, Associated Press
January 28, 2018