On Jan. 16, PVPD officers responded to the America's Best Motel in Prescott Valley to assist the fire department with a pregnant woman who was reportedly unconscious in the lobby.
Stories this photo appears in: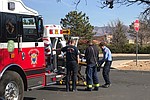 Four people were arrested Friday, Jan. 19, and booked on drug and weapon charges after police responded to a motel on a report of a pregnant woman unconscious, said Sgt. Jason Kaufman, spokesman for the Prescott Valley Police Department.