Fiona, a baby Nile Hippopotamus, swims through her enclosure as visitors look on at the Cincinnati Zoo & Botanical Garden, Wednesday, Jan. 10, 2018, in Cincinnati. Fiona, born six weeks prematurely at 29 pounds, well below the common 50-100 pound range, and required nonstop critical care by zookeepers to ensure her survival has become an international celebrity. She will reach her first birthday on Jan. 24. (AP Photo/John Minchillo)
Stories this photo appears in: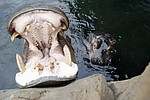 Some days, it's more like being a Hollywood star's agent than a communications official for the zoo. That's what happens when your prematurely born hippopotamus becomes a global celebrity.
By DAN SEWELL, AP
January 21, 2018