Prescott composer Henry Flurry, left, Toni Tennille, center, and Allison Dixon, orchestra administrator, meet at Raven Cafe in Prescott Jan. 5 to discuss the new Arizona Philharmonic Orchestra, an organization of professional musicians. Auditions are taking place now until March 1. (Courtesy photo)
Stories this photo appears in: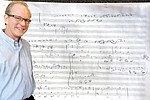 Auditions have opened for a new collaborative orchestra based in Prescott but drawing upon professional musicians from all over the state.