A photo of Hutchinson, Kansas, native Tyler Miller and his family. Miller was fatally shot Jan. 5 by U.S. Forest Service law enforcement officer in Oak Creek Canyon on Friday, Jan. 5, 2018, near Sedona. (Bretz & Young, L.L.C./Courtesy)
Stories this photo appears in: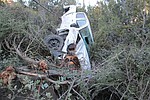 An autopsy report by the Yavapai County Medical Examiner's Office shows no evidence of illegal or prescription drug abuse or excessive alcohol use by a Kansas man shot and killed in Oak Creek Canyon in January by a U.S. Forest Service.
By Dan Engler, Verde Independent
June 13, 2018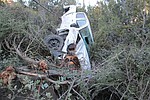 A Kansas man fatally shot by a federal officer as he walked naked and bloody along an Arizona highway tested negative for a range of illegal and prescription drugs and had a blood alcohol level within the legal limit, according to toxicology results.
A Hutchinson, Kansas, man who was fatally shot by a U.S. Forest Service law enforcement officer while traveling through Oak Creek Canyon near Sedona on Jan. 5 was unarmed, according to news release from the family attorney and confirmed by the FBI on Monday.
By DAN ENGLER, Verde Independent
January 8, 2018