Afghan people bury victims of Thursday's suicide attack on a Shiite cultural center in Kabul, Afghanistan, Friday, Dec. 29, 2017. An Islamic State suicide bomber has struck a Shiite cultural center in Kabul, killing dozens of people and underscoring the extremist group's growing reach in Afghanistan even as its self-styled caliphate in Iraq and Syria has been dismantled. (AP Photo/Rahmat Gul)

Stories this photo appears in: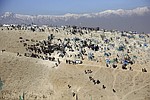 The top American commander for the Middle East wants a more aggressive Afghan military pressuring Taliban and other insurgents over the normally quieter months of Afghanistan's winter, and then quickly going on the offensive in the spring. It's all part of a plan the United States hopes will change the course of a war now entering its 17th year.
By LOLITA C. BALDOR, AP
January 2, 2018