In Prescott, city code requires residents to use city services for their trash collection. For $15.50 per month, Prescott residents get a green garbage container and a blue recycling container with weekly pick-up. (Sue Tone/Courier)
Stories this photo appears in: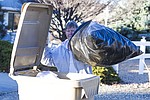 Depending on where one lives in the Quad Cities, garbage and recycling options vary, from "one size fits all" to two separate bins, to hauling it to the landfill yourself.