A mannequin "Starman" sits at the wheel of a Tesla Roadster in this photo posted on the Instagram account of Elon Musk, head of auto company Tesla and founder of the private space company SpaceX. The car will be on board when SpaceX launches its new rocket, the Falcon Heavy, from Kennedy Space Center at Cape Canaveral, Fla., scheduled for Tuesday, Feb. 6, 2018. (Courtesy of Elon Musk/Instagram via AP)
Stories this photo appears in: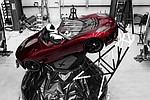 A SpaceX "Starman" is aboard the company's new rocket that's set to make its launch debut from Florida. SpaceX chief executive Elon Musk revealed pictures of the surprise dummy passenger Monday.