Wages in Arizona rose 2.5 percent over last year, but that number is below the national average, which is 3.2 percent. The average wage in Yavapai County is $732 per week, with ranks 12th of 15 counties.
Stories this photo appears in: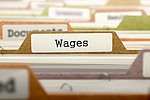 Increases in wages for Arizona workers are not keeping pace with the rest of the country.