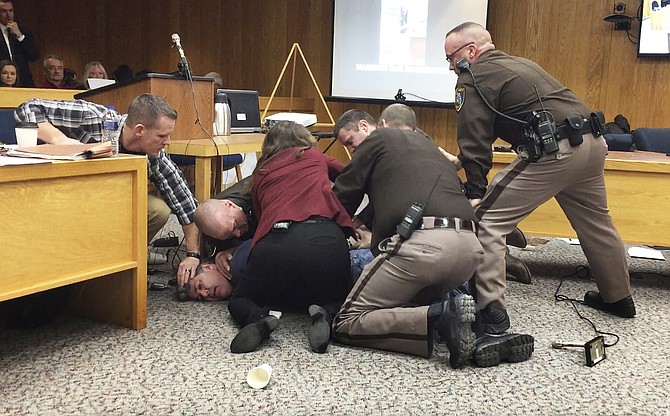 Eaton County Sheriff's deputies restrain Randall Margraves, father of three victims of Larry Nassar, Friday, Feb. 2, 2018, in Eaton County Circuit Court in Charlotte, Mich. The incident came during the third and final sentencing hearing for Nassar on sexual abuse charges. The charges in this case focus on his work with Twistars, an elite Michigan gymnastics club. (Kim Kozlowski/Detroit News via AP)
Stories this photo appears in:
A distraught father seething over sexual abuse suffered by three daughters tried to attack former sports doctor Larry Nassar in a Michigan courtroom Friday after a judge declined his request to confront the "demon" in a locked room, a stunning rush that reflected the anguish felt by parents who trusted him with their children.
By DAVID EGGERT & MIKE HOUSEHOLDER, AP
February 2, 2018