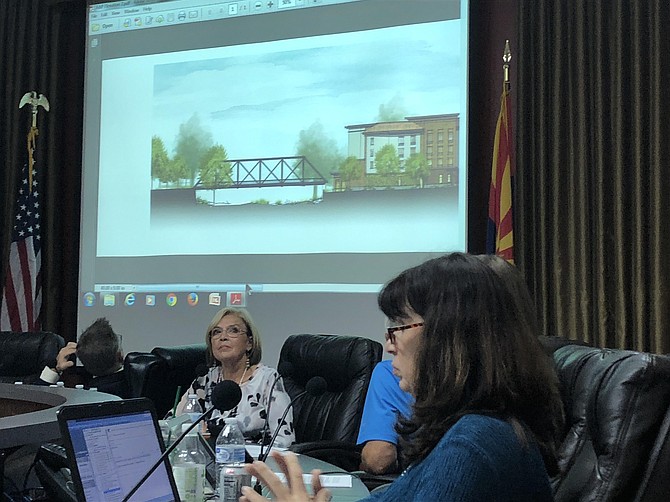 Prescott Mayor Pro Tem Billie Orr, center, City Clerk Maureen Scott, right, and other city officials listen as WSH Hospitality, LLC, developers explain their plans for a Hilton Garden Inn in downtown Prescott. The presentation took place during the Prescott City Council meeting Tuesday, Aug. 28, and included an artist's rendering of how the new hotel will tie in with the historic railroad trestle that is located nearby. The council voted 5-1 to approve a development agreement that allows for the lease of the city-owned property at the corner of Shelden and Montezuma streets to WSH Hospitality. (Cindy Barks/Courier)
Stories this photo appears in: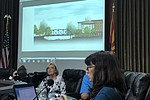 An Aug. 28 vote of 5-1 by the Prescott City Council continues to raise questions and concerns three weeks later.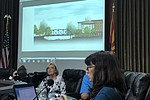 Prescott City Council was in a real rush late last month when it approved the contract for construction of a Hilton Garden Hotel on city park property.
By HOWARD MECHANIC, Special to the Courier
September 14, 2018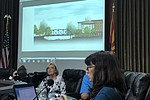 In what Mayor Greg Mengarelli called "a landmark deal," the Prescott City Council agreed to a lease agreement this week that is expected to bring a 95-room Hilton Garden Inn hotel to downtown Prescott.