A voting sign directs voters to a precinct on primary election day Tuesday, Aug. 28, 2018, in Phoenix. (Ross D. Franklin/AP)
Stories this photo appears in: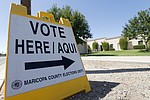 A nonprofit Arizona political coalition is launching an effort to register 250,000 people across the state to vote, and to encourage everyone to participate in this year's census.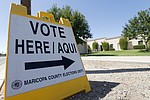 PHOENIX — An initial report examining voting problems in the Phoenix area during the August primaries faults the Maricopa County recorder for not having a backup plan, proper monitoring of lines and an efficient system for setting up voting machines.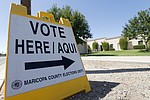 PHOENIX — Voters faced more problems at Phoenix-area polling places during Arizona's primary election, with several locations opening hours behind schedule Tuesday because voting machines had not been set up on time.
By ASTRID GALVAN, Associated Press
August 28, 2018