Giant vegetable grower Scott Culp takes the measure of his giant pumpkin earlier this month in Sierra Vista. The pumpkin will be on display at the Yavapai County Fair in the Horticulture building. (Sierra Vista Herald/Courtesy)
Stories this photo appears in: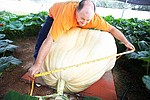 Who has the biggest pumpkin in Yavapai County? What about the juiciest, tastiest tomatoes?