Rep. Don Shooter is pictured in February 2018, as he told his colleagues in the state House that although he has "done stupid things," they should allow him to remain a member of the House. They did not agree, voting 56-3 for his expulsion. (Howard Fischer/Courtesy, file)
Stories this photo appears in: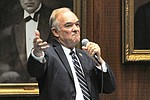 Since the start of last year, The Associated Press has tallied at least 76 state lawmakers who have faced public allegations or repercussions over sexual misconduct claims.