This photo dated Saturday, Aug. 18, 2018, shows Granite Creek's water level, which has risen due to the amount of rainfall from this year's monsoon weather. (Jason Wheeler/Courier)
Stories this photo appears in: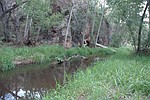 You Too! Mentor Session, 10 or 11 a.m., Prescott Public Library, 215 E. Goodwin St. Training on iPads with hearing and vision accessibility apps.