Pictured is one of many displays in the Granite Mountain Interagency Hotshot Crew Learning and Tribute Center at the Prescott Gateway Mall. The center is open from 10 a.m. to 4 p.m. on Fridays and Saturdays, and from 11 a.m. to 4 p.m. on Sundays. Visit www.gmihc19.org for more information. (Cindy Barks/Courier file)
Stories this photo appears in: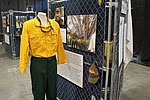 50% off Storewide Sale, 7:50 a.m. to 3:50 p.m., St. Vincent DePaul's Thrift Store, 935 Fair St., Prescott, across from Fry's grocery store. Sale is 8/28-8/31.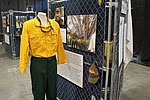 Today Historic Downtown Walking Tours "Where It All Began," 10 a.m., Chamber's Visitor Information Center, 117 W. Goodwin St. 928-445-2000 or www.prescott.org.