Prescott's Giovanni Ruiz breaks down the field after quarterback Austin Clark found him on a broken play from the Badgers' own end zone. Ruiz went 83 yards before he was tackled at the 2 yard line, but the play was called back due to an inadvertent whistle. Prescott lost 40-17 to Desert Edge on Friday, Aug. 17, 2018, in Prescott. (Les Stukenberg/Courier)
Stories this photo appears in: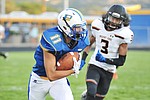 PRESCOTT — Milton Rodgers had 30 carries for 186 yards and a touchdown, quarterback Adryan Lara threw for two more scores and Desert Edge outscored Prescott 14-0 in the second half in a 40-17 win Friday night.