Lisa Russell, project manager for the Prescott Winery, pours a glass of Sangiovese for Ted Richards during Sharlot's Cellar "99 Bottles of Wine at the Hall" wine tasting Aug. 22, 2015, at Sharlot Hall Museum in downtown Prescott. Sharlot's WineFest is Saturday, Aug. 18, 2018. (Courier file photo)
Stories this photo appears in: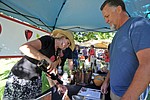 In the middle of all the festivities surrounding its 90th year, Sharlot Hall Museum is celebrating with the sixth annual Sharlot's WineFest.