Students in the Prescott Valley Schools inaugural STEM Summer Camp visited Legend Aviation's maintenance hangar at the Prescott Airport, one of several field trips, in June. From left are Hailey Runge, Keala Runge, Alondra Salinas, Bailey Gonzales, Lisandro Trujillo, Andy Olofson, Sabyr Turner and Lincoln-Ethan Phoenix. (Courtesy)
Stories this photo appears in: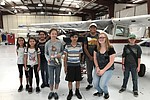 Prescott Valley School hosted its first ever STEM (science, technology, engineering, math) Summer Camp.