Members of the defense team for Paul Manafort, including Thomas Zehnle, left, Richard Westling, and Kevin Downing, walk to federal court as the trial of the former Trump campaign chairman continues, in Alexandria, Va., Tuesday, Aug. 14, 2018. The focus in Paul Manafort's fraud trial shifts to the defense after prosecutors rested their case. (Jacquelyn Martin/AP Photo)
Stories this photo appears in: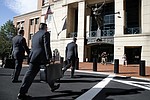 ALEXANDRIA, Va. — Paul Manafort's defense rested its case Tuesday without calling any witnesses in the former Trump campaign chairman's tax evasion and bank fraud trial. Manafort himself chose not to testify.
By CHAD DAY, MATTHEW BARAKAT and MARY CLARE JALONICK, Associated Press
August 14, 2018