This frame from video shows the scene of a small plane that crashed into a house in Payson, Utah, on Monday, Aug 13, 2018. Authorities said the pilot was killed in the crash. (John Wilson/KSL-TV/Deseret News via AP)

Stories this photo appears in: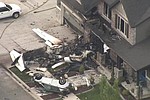 A Utah man flew a small plane into his own house early Monday just hours after he had been arrested for assaulting his wife in a nearby canyon where the couple went to talk over their problems, authorities said.