In this June 14, 2018, file photo, an Amazon Echo is displayed in New York. Digital assistants like the Echo don't always understand questions or serve up useful answers, which some parents say is a good thing. But these in-house virtual visitors do create challenges and opportunities for parents, especially those raising younger kids. (Mark Lennihan/AP, file)
Stories this photo appears in: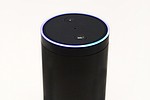 Hey parents: What if there was a machine that could respond to your kids' every command, never tiring, even if they ask it to tell jokes for two hours or answer all their homework questions?
By MELISSA RAYWORTH, Associated Press
August 9, 2018