In this June 30, 2018 photo, Donkey Park owner Steve Stiert, walks among his donkeys in Ulster Park, N.Y. The retired IBM software engineer offers free donkey-assisted therapy programs and educational events as part of his mission to protect donkeys from mistreatment and neglect. Stiert spreads the word about their virtues as peaceful stress-relieving animals. (AP Photo/Mary Esch)
Stories this photo appears in: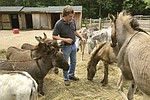 In most of the world, donkeys are beasts of burden, but the only job of the long-eared denizens of Donkey Park is to nuzzle, bray and beguile the diverse group of people who find comfort in their company.