A mother and 5-year-old daughter from Honduras are detained by U.S. Customs and Border Patrol agents Wednesday, July 18, 2018, in San Luis, Ariz. The pair were apprehended by a U.S. Border Patrol agent who spotted them crossing a canal along the border with Mexico. (Matt York/AP)
Stories this photo appears in: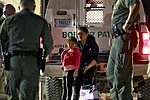 SAN LUIS — The 3-year-old boy with a bowl haircut and striped shirt silently clung to his father in the back of a U.S. Border Patrol truck.
By ASTRID GALVAN, Associated Press
August 7, 2018