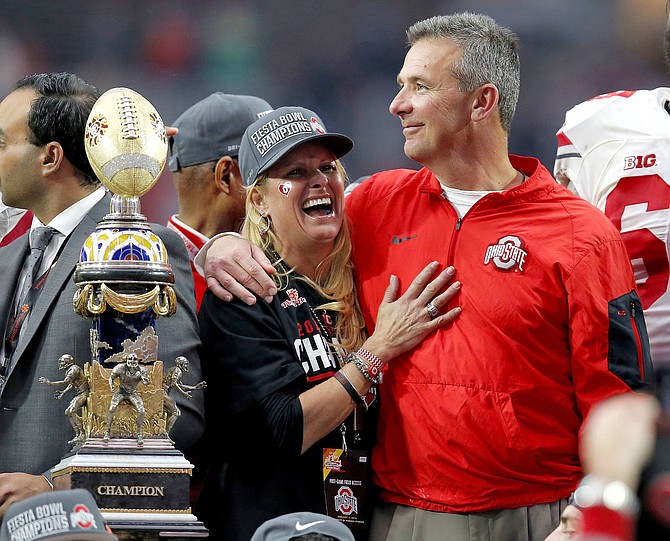 In this Jan. 1, 2016, file photo, Ohio State head coach Urban Meyer hugs his wife, Shelley, after their 44-28 win over Notre Dame in the Fiesta Bowl NCAA college football game, in Glendale, Ariz. Ohio State placed Meyer on paid administrative leave Wednesday, Aug. 1, 2018, while it investigates claims that his wife knew about allegations of abuse against former Buckeyes assistant Zach Smith, who was fired last week. (Rick Scuteri/AP, file)
Stories this photo appears in:
COLUMBUS, Ohio — The Urban Meyer investigation is costing Ohio State $500,000, but whether the superstar football coach keeps his job still comes down to whether the university wants to stick with him based on how he's already been tainted by the scandal.
By MITCH STACY, AP Sports Writer
August 14, 2018
COLUMBUS, Ohio — Ohio State closed ranks around the rollout of its football season as the university investigates whether coach Urban Meyer failed to report domestic abuse allegations, a scandal hitting a school already accused of not facing up to sexual misconduct allegations against a sports doctor.
By MITCH STACY, AP Sports Writer
August 2, 2018