This April 16, 2018, photo shows a newly purchased queen bee, marked with white paint on her back in a queen cage, near Langley, Washington. Worker bees will eat a piece of candy placed as a cork on the back of the cage, so the queen can be released for egg laying. Queens can live more than five years, but their vitality declines with age. (Dean Fosdick via AP)
Stories this photo appears in: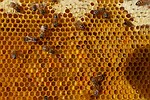 Spring is the busiest time of year for bees and their beekeepers.