In this June 22, 2016 file photo, a border patrol agent walks near the secondary fence separating Tijuana, Mexico, background, and San Diego in San Diego. California has rejected the federal government's initial plans for National Guard troops to the border because the work is considered too closely tied to immigration enforcement. (AP Photo/Gregory Bull, File)
Stories this photo appears in: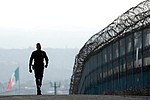 The Trump administration said Monday that California Gov. Jerry Brown rejected terms of the National Guard's initial deployment to the Mexican border, but a state official said nothing was decided.
By ELLIOT SPAGAT & LUIS ALONSO LUGO, AP
April 17, 2018