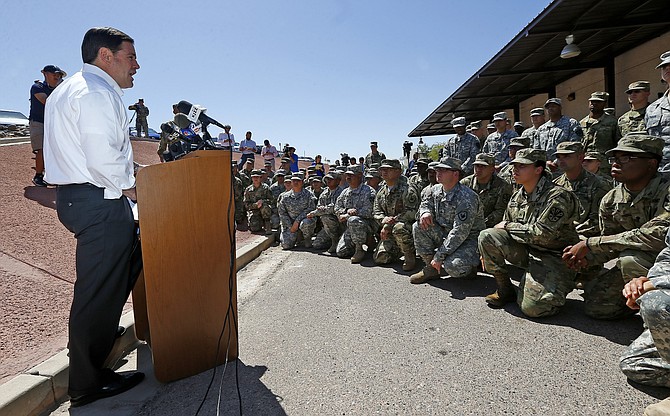 Arizona Republican Gov. Doug Ducey speaks to Arizona National Guard soldiers prior to deployment to the Mexico border at the Papago Park Military Reservation, Monday, April 9, 2018, in Phoenix. Ducey said Monday that 225 members of the state's National Guard were heading to the U.S.-Mexico border to support President Donald Trump's call for troops to fight drug trafficking and illegal immigration. (AP Photo/Ross D. Franklin)
Stories this photo appears in: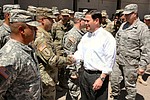 Gov. Doug Ducey is defending his decision to deploy 338 National Guard soldiers to the border, saying it's not about politics even as he boasted there is finally an administration in Washington that cares about the issue.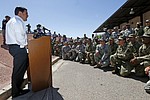 Some National Guard members have started arriving at the U.S.-Mexico border with more expected as federal government officials continue to discuss what they'll do about illegal immigration.
By NOMAAN MERCHANT & BOB CHRISTIE, AP
April 10, 2018