The runways at the Prescott Airport could be busy with commercial air service by mid-May. (Courier, file)
Stories this photo appears in: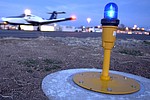 In the City of Prescott's ongoing quest to reach 10,000 passengers by the end of 2018, the Prescott Regional Airport now has exceeded the 7,500 mark.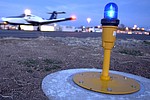 Flights to LAX, Sky Harbor, or Hawthorne, California, could be offered within the next month or so at the Prescott Municipal Airport, depending on the airline chosen to take on Prescott's commercial air-service contract.