Back row, from left: Paul Katan, PUSD Grants Director; Jill Normandin, BloomTree Realty Executive Operations Officer; and Dr. Anne Marie Ward, BloomTree Realty Executive Strategic Officer and Education Director. Front row, from left: Rebecca Wood, AmeriCorps Vista & PUSD Family Resource Center Coordinator; Sherri Batten, BloomTree Realty Designated Broker; Kelly Mattox, PUSD Grants Specialist; and Stacey Haggart, BloomTree Realty Agent. (Courtesy)
Stories this photo appears in: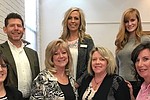 BloomTree Realty gives a sizeable donation to the PUSD Family Resource Center to help children in need.