Colorado Rockies second baseman DJ LeMahieu misses the throw from home, allowing Arizona Diamondbacks' A.J. Pollock (11) the stolen base plus advance to third on the throwing error during the seventh inning of a baseball game Friday, Sept. 1, in Denver.
Stories this photo appears in: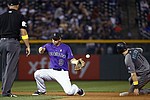 DENVER — The Arizona Diamondbacks swept the Los Angeles Dodgers this week, so a battle with Colorado for wild-card supremacy didn't intimidate them.