Supporters say gun-mounted cameras for police can provide unobstructed views, lower video storage costs, and a feature in some models that instantly alerts dispatchers when officers draw their weapons and may need help. However, gun cameras start recording only after weapons are removed from holsters and don't capture what led to officers drawing their guns. (Gavin Smith/Centinel Solutions via AP)

Stories this photo appears in: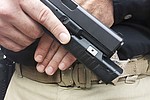 A small number of police departments are showing interest in a new type of video camera that can be mounted directly on officers' guns, saying it may offer a better view of officer-involved shootings than body cameras.
By AP and Staff Report
October 20, 2017